International Festival of Contact Improvisation Tango Wuppertal – 1rst ContacTango Festival ever returns to City Of Dance!
ContacTango returns to the CITY OF DANCE Wuppertal
6.-11-02.2024
After a 3 year pause, we feel, we can do it again. We fill the famous Cafe Ada, place of art, revolutionary dance theatre of Pina Bausch and Tango Argentino! The Festival focusses to support on a vivid exchange about Contact Improvisation, Tango und ContacTango.
I´m very proud of that amazing teachers team, which will gather this year:
Alon Ritter, Israel, Intensive
Alejandro Gonzales, Barcelona, Spain
Francesco Gatt, Freiburg, Germany
Gabriele Koch, Wuppertal, Germany
Genevieve Cron, France
Monika Schuberth, Wien, Österreich
Isabell Guidi, Tübingen, Germany
and more…
Save the Date!
ContacTango Festival Beichlingen
9.-14.7.2024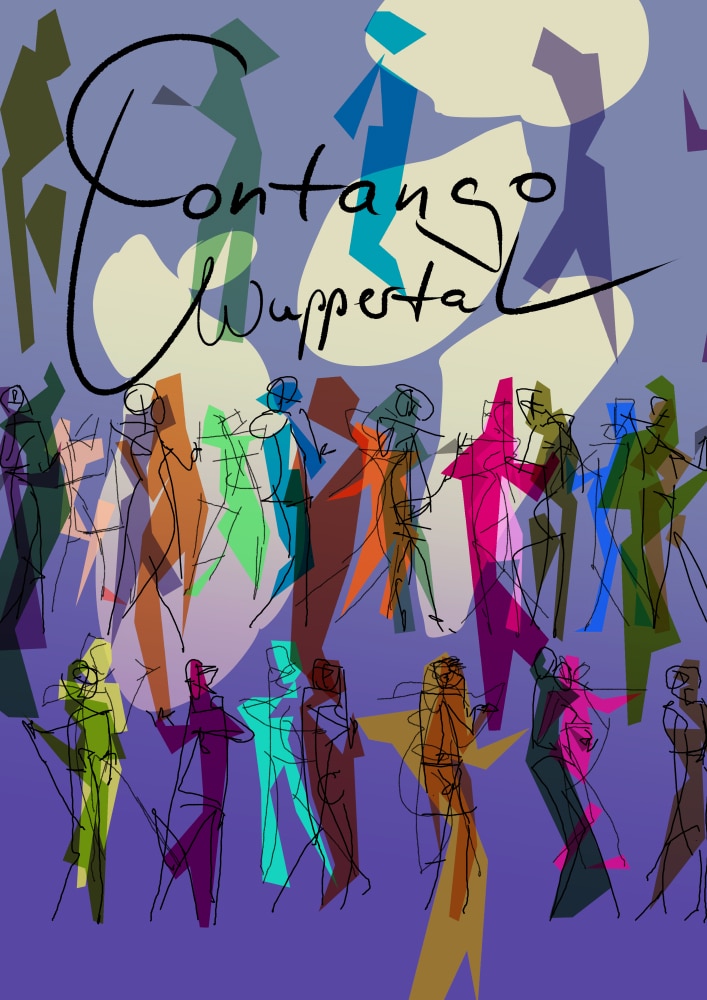 Beside yearly changing international teachers, who share there multiple influences, former Teachers are invited to support the Festival.
We have a lot of space to exchange intensiv within a group of wonderful people, built connection, experiment, cuddle, play, dive deep into embodiment and float together.
The Festival offers capacity for dancers of any level to experience the fusion of Tango Argentino und Contact Improvisation and catch playfulness, intensity and freedom in this symbiosis.
FULL PACKAGE
6 days of classes, research, jamilongas, exchange etc plus 4 meals on the full days Tuesday evening -Sunday afternoon
Early Bird till 15.12.2023: 460,-€ (after 510,-€)
WEEKEND SPECIAL
Friday afternoon to Sunday afternoon including 1 meal on saturday
Early Bird till 15.12.2023: 210,-€ (after 240,-€)
Stay overnight
For a specific amount of participants we can provide housing in appartments nearby for 25,-€/night.
double rooms, three bed rooms, 4 + 6 people appartments are available
Please register soon!
The details:
PLACES: we will dance mainly in Insel e.V. Kultur im Ada on a huge wodden floor. Beside we have a smaller studio RESONANZRAUM available for weekend classes, for bodywork and resting, if you need a break.
Resonanzraum: Brunnenstr. 24, Wuppertal
Alon Ritter & Gabriele Koch
Alon Ritter
Alon Ritter is a certified Feldenkrais practitioner with a BA in music education. Specialising in Somatic Dance, Tango, Contact improvisation, Voice & Movement Improvisation, and embodiment as a way of life. His unique methods and approach as well as his background in Mindfulness and theraphy have made his courses taught after internationally in the last decade. Alon also leads regular classes and private lessons at festivals and theatre academies where he works closely with artists to maximise their creative and physical potential as performers.
https://www.alonritter.com
Gabriele Koch
Gabriele Koch lives in Wuppertal. She has been dancing and teaching dance for 25 years, with 20 years dedicated to Tango and approximately the same amount of time researching ContacTango. For the past 11 years,
she has been the founder and organizer of the international Festival of Contact and Tango, which has moved from Wuppertal to Beichlingen. The festival is dedicated to lively exchange and research in the
realm of Contactango.
Gaby is currently undergoing training as a Somatic Movement Practitioner and has long incorporated the connect ion with our body into her work. She is interested in constantly discovering new paths,
breaking patterns, and finding subtlety and freedom in dance.
info@gabrielekoch.net
Their classes:
Alon and Gabriele will guide you on a journey through your body into connection, from improvisation into a delicate variation of contact tango choreography.
Alejandro Gonzales
He was born in the city of Buenos Aires, Argentina, where he trained as a dancer, choreographer and Tango teacher.
He began tango in 1994 going through different schools and teachers to develop his dance. In 1996 he began his journey as a dancer, joining the Francisco Santapa company, in which he also learned their way of teaching by working with them as an assistant at their school.
From 1996 to 2000 he was part of different companies, ballet and tango houses.
In 2005 he began his journey through Europe, settling in Spain.
Working as a tango teacher in: Spain, Germany, Italy, France and Holland. In Spain, he created the cultural space in the province of Tarragona, Tarragotango.
In 2015, together with Gisela Navonit, they created the cultural space "La orilla" in Montevideo, Uruguay. As organizers they gestate and direct this space, presenting various plays and dance there.
He continues to organize with Gisela and generate events such as Explotango Marathon (Catalonia, since 2017) www.explotango.com, and learning spaces such as: the No-Role intensive (France) and its traveling event 1, 2, 3 tango (France). Alejandro seeks that each of his events reflect the personality of his dance and his artistic search.
Dedicated to the investigation of improvisation, he gets into the study of other dances and their philosophies, such as contemporary dance, Contact Improvisation, ballet and Chi-kung. Integrating this new knowledge into his dance and trying to always stay curious so as not to stop learning. He currently also works as Tango DJ.
His classes:
Alejandro is a master of Neotango. He will give us extended variations to open your Tango Dance and slide into contact improvisation.
Francesco Gatti
Francesco Gatti lives and works as tango-coach in Freiburg/Germany. He is highly interested in deepening an authentic tango-connection, which has it's home base in the embrace. If both partners listen carefully to each other, the evolution of embrace-quality during one song may seem like the cloud-colours during sunset: something is constantly changing and evolving. Francesco provides methods to facilitate this beautiful process, to finally reach the ability of a creative 'musical embrace'.
His classes
Francesco will invite us into a deep and sensitive embrace. He guidesus into a deep understanding of connection, listening to finest movements, which once settled opens up our capacity, creativity just by itself.
Genevieve Cron
In the 90's, I was doing improvisation, dance, acrobatics, and theater. Following a suggestion from friends, I went to a contact improvisation jam, and I found it terribly too intimate. I began practicing CI with Jess Curtis in 2003. Since then, I began to practice intensively and have learned with about 30 teachers, from local to all over the world, always been passionate about the variety of new aspects and pedagogies of this practice.
I met Edwine Fournier in 2005; she was already researching how CI and tango argentino could meet and, supported by somatic practices, created a new practice called "tango contact." I was not attracted by tango, but her practice was delicate, creative, precise, and enlarged my view of CI. It took me some years before daring to do my first steps in tango argentino in both roles.
I began to teach CI in 2010 in Paris and tango contact some years later with Edwine, Karine, and Francoise from the collectif Tangible. We also organized monthly tango-contact evenings in a Parisian cave called La Java. It attracted people from CI and tango argentino scenes and let them share the space with the orchestra Tangoleon.One main aspect of my teaching (both in CI and in tango) is the ability to combine or move the dancer's focus from inner sensation to outer perception to be able to both feel good and safe and to listen to the partner(s) and the environment.My practice of CI is influenced by martial arts, acrobatics, somatic practices, argentine tango. I now teach contact improv, improvisation, theater, and tango argentino double roles in Melun, France.
Her classes:
Genevieve will base on her complexity of knowledge building bridges between contact improvisation and Tango into Tango Nuevo.
Isabelle Guidi, Tübingen
I studied Fine Arts at the HBK Braunschweig and then completed my training as an actress for physical theater at the Accademia Teatro Dimitri in Verscio, Switzerland. I also pursued further training in dance at the Espace Catastrophe in Brussels, Belgium. With my theater ensembles duo mirabelle and Theater HERZeigen, as well as the dance theater group Gekko, I perform throughout the German-speaking region with original productions for both children and adults. Additionally, I am actively involved in dance and theater education. For many years, I have been teaching ongoing courses in Contact Improvisation and offering workshops. I enjoy exploring the connection between Body Mind-Centering® and Contact Improvisation, as well as the fusion of Contact Improvisation and Tango, known as ContacTango. For the past five years, I have been organizing the Contact Impro Festival Stuttgart and the ContacTango Festival Stuttgart.
Her classes:
Isabelle will bring us into a soft embodied state to release from there into aspect of Contact Improvisation and Tango
Monika Schuberth-Silberbunt
After completing a yoga teacher training, she further pursued dance and completed training in modern/contemporary stage dance. This was followed by numerous further education and training in various techniques such as Contact Improvisation, Acro Yoga, Axis Syllabus, Improvisation, and Argentine Tango. She has been teaching teenagers, adults, and aspiring dancers for over 10 years, including at Unicorn Art Dance Studio, Dancemotion, Yogastudio Natural High, Institut Hara, Artmovements, and various festivals. She works as a freelance dancer/performer and has been involved in a wide range of projects and formats, including Unicorn Light Performance Group, Trashbar, and Reset Collective Vienna.
Her classes:
Monika will give us deep physical explorations from Contact Improvisation based on weight and lifts, which inform our bodies and support our dance, whether Tango, Contact Improvisation or ContacTango
Gewicht geben / Gewicht nehmen
In this workshop, "Weight Give / Weight Take," we will focus on the basics of Contact Improvisation – leaning, giving weight, taking weight, being off balance, and more. It's about playing with our own body weight, which almost naturally leads to dancing when interacting with others. Understanding the principle of giving and taking weight as fundamental in Contact Improvisation, I aim to explore the variability of this concept.
Fall to Fly – Easy Liftings
In the workshop "Fall to Fly – Easy Liftings," we will explore the joy of giving weight and losing contact with the ground while dancing. We will focus on the fundamental principles of both roles to creatively play with them. Lifts can emerge from the shared dance and feel light. Whether it's small, delicate lifts or large, spectacular "lifting figures," there are various approaches and tactics for everyone to achieve this. As the title suggests, I want to flip the basic understanding of a lift, turning it upside down a bit.